What is a Stiltz Home Lift?
Stiltz home elevators are now available in Malaysia – a stylish and compact home lift which provides a simple and easy way of transferring between floors quickly and easily. The Stiltz home elevator has been designed to fit into any home environment and is perfect for homeowners who are either looking for help to get around the home, or looking to 'future proof' their property.
​Discreet, elegant and economical, our home lifts are an ideal solution for you and your family. The unique dual rail technology means this safe, unobtrusive home elevator can be installed quickly and easily in any Malaysian house from Penang to Kuala Lumpur to Johor Bahru. Contact us now and discover how a Stiltz home lift can start improving your life today.

Features & Benefit
The Stiltz Home Lift can be installed almost anywhere in the home thanks to its compact footprint, drive mechanism and dual rail technology. This means Stiltz home elevators have an unrivalled ability to fit into spaces other home lifts cannot, with minimal building work and disruption.

Small Footprint
The Stiltz Home Lift has one of the smallest footprints of any home lift in Malaysia, taking up less than a square meter.

Low Power Consumption
All Stiltz home elevators plug straight into a standard power socket meaning they use no more power than a toaster or kettle.

Whisper Quiet
Unlike other residential elevators, Stiltz do not use noisy hydraulics or vacuum systems. This makes them quieter than many stairlifts.

Unique Guide System
A Stiltz residential elevator uses self-supporting vertical rails and does not attach to load-bearing walls, minimising vibration and noise.

Fast Installation
A modular design means the Stiltz home lift can be easily moved into your home by our installation teams, and assembled quickly onsite.

Self Contained Drive System
A Stiltz home elevator is powered using a quiet yet powerful electric motor which is neatly concealed at the top of the lift car.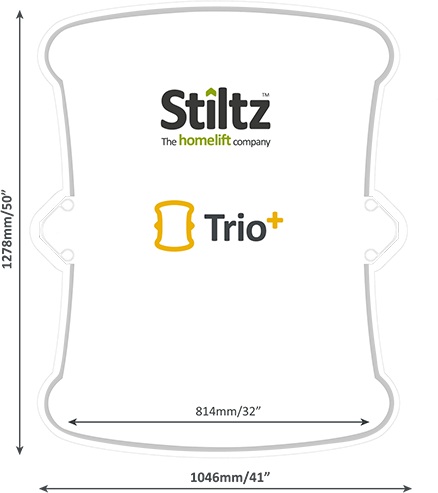 ---
Stiltz Trio + Footprint
The Trio+ Home Lift has a footprint of 1046mm x 1278mm. Compared to most wheelchair lifts on the market, it is still remarkably small.
Stiltz Trio + Footprint
The Trio+ Home Lift has a footprint of 1046mm x 1278mm. Compared to most wheelchair lifts on the market, it is still remarkably small.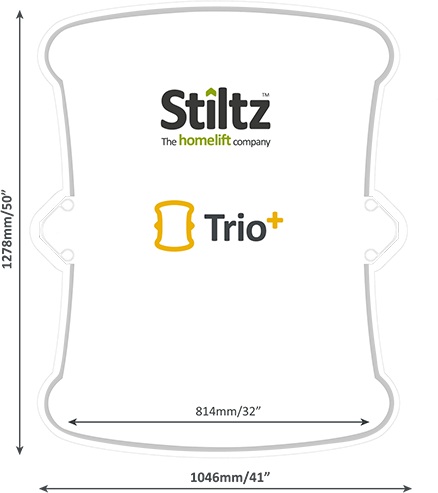 1. Is a Stiltz Home Lift suitable for wheelchair users?
Yes. The Stitlz Trio+ is ideal for users with mobility issues as it gives them the freedom and independence to move around the home unhindered. The Stiltz Trio+ is an ideal alternative to a stairlift and perfect for users with a walking frame.
2. How much space will a Stiltz Home Lift take up in my home?
The Stiltz Home Lift has one of the smallest footprints on the market for a domestic lift – its compact footprint is less than a square meter (0.55m2)
3. Does a Stiltz Home Lift require load bearing walls?
No. Stiltz unique dual rail system creates a completely self-supporting structure. The weight of the entire structure and lift are in compression through the rails into the floor of the home. The Stiltz home lift does not add any extra burden on a home thanks to this innovative technology.
4. What happens if the power fails and I am in my Stiltz Home Lift?
In the event of a power cut to the home all Stiltz Home Lift are equipped with a battery back-up facility. This is included as standard with the lift and will allow anyone in the lift at the time of power failure to gently descend to the lower level of the home, exit the lift and wait until the power comes back on.
5. Are Stiltz Home Lift noisy?
The Stiltz Home Lift does not require noisy hydraulics or any extra external mechanisms and thanks to its unique drive system, the lift is very quiet and make less noise than most stairlifts.
7. How long does it take to install a Stiltz Home Lift?
The Stiltz Home Lift is the easiest domestic lift to install on the market. Once the aperture in the ceiling has been prepared by a builder, our team can usually have the lift operational in three days.
8. What is the lead time for a Stiltz Home Lift?
The normal lead-time from placing your order for a Stitlz Home Lift to a project completion is from 8-12 weeks. This allows enough time for the aperture to be cut and trimmed and the lift to be manufactured and installed.
9. What happens if I do not require my Stiltz Home Lift in the future?
A Stiltz Home Lift is simple to remove and you can take it with you if you decide to move house. It is very straightforward to seal the aperture opening and your home will look as if the lift was never there. You may, however, decide to keep the lift in position as a home lift can add value to your property. It therefore can be an attractive asset when selling your home.
10. How much energy does the Stiltz Home Lift consume?
The Stiltz Home Lift is powered by a 13amp power socket like any household appliances and uses no more power that a kettle, toaster or microwave.
11. How often will my Stiltz Home Lift need servicing?
We recommend that you have your Stiltz Home Lift serviced once a year to ensure that the lift is functioning properly and that all safety features are working correctly.
12. How long is the warranty on a Stiltz Home Lift?
Every Stiltz Home Lift includes a comprehensive 12 months parts and labor warranty.
13. What is the cost of a Stiltz Home Lift?
A member of our sales team will visit your home and provide you with a personalized quotation based on your individual needs.